Disclosure: We may earn money or products from the companies mentioned in this post.
Finding the best gifts for rabbit lovers can be really hard. You don't want to give them something that they already have, and you don't want to give them rabbit gear that you don't know they are going to love. So we Rabbit Pros are going to help you out with a list of rabbit gifts for bunny lovers.
P.S. I saved the best for last, so make sure you make it to #13.
~Stacey
---
Gifts For Rabbit Lovers
1. Rabbit Garden Statue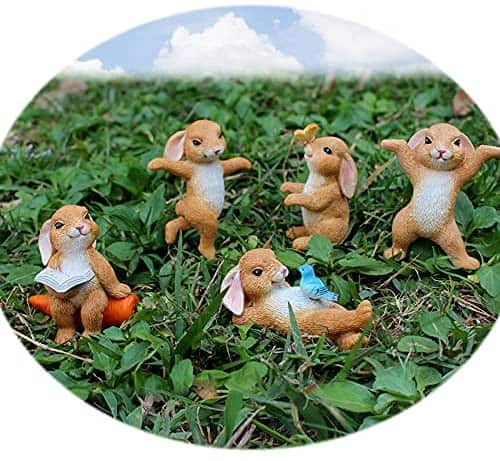 If your friend has a house with a yard or a garden, why not give them the gift of bunny joy. It will also serve as a warning to anyone entering the house that they are about to be in the presence of cuteness. Here is an Amazon link to the set in the image above.
---
2. Rabbit Onesie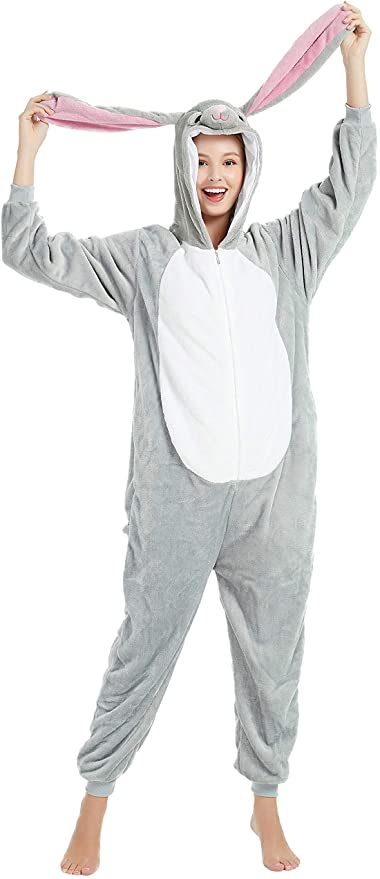 This is just a fun gift idea. It's comfort, laughs, and bunny love in one unexpected bunny gift.
---
3. Rabbit Coloring Books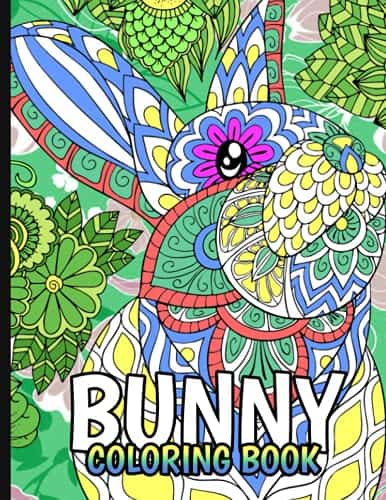 How about some relaxing time with an adult coloring book? These are inexpensive and you can easily make a small stack of these creative books for a year's worth of downtime for your friend.
---
4. Inspirational Vintage Rabbit Sign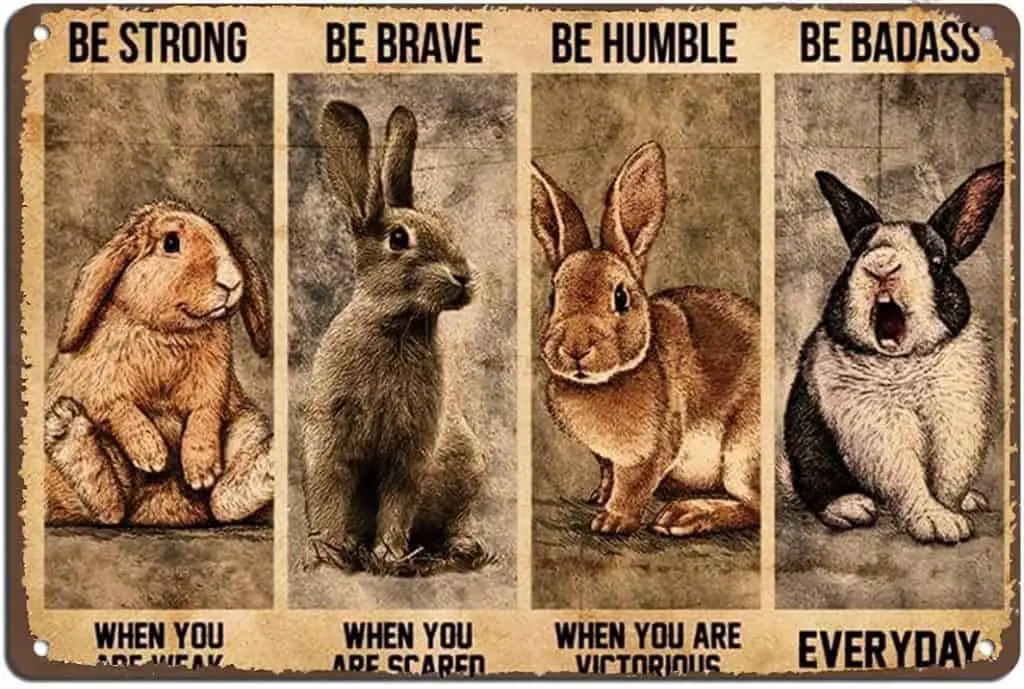 I love this sign. It's one-half inspirational and one-half bunny love. That's a winner.
---
5. Rabbit Arts And Crafts
Is the bunny owner that you're buying a gift for younger? Do they love crafts as well as bunnies? Then why not bring to two loves together for hours of fun that leave your friend with a neat bunny art piece?
---
6. Rabbit Jewelry
You can find some amazing elegant rabbit-inspired jewelry on Amazon and it's surprisingly affordable. And the selection is amazing.
---
7. Funny Rabbit T-Shirt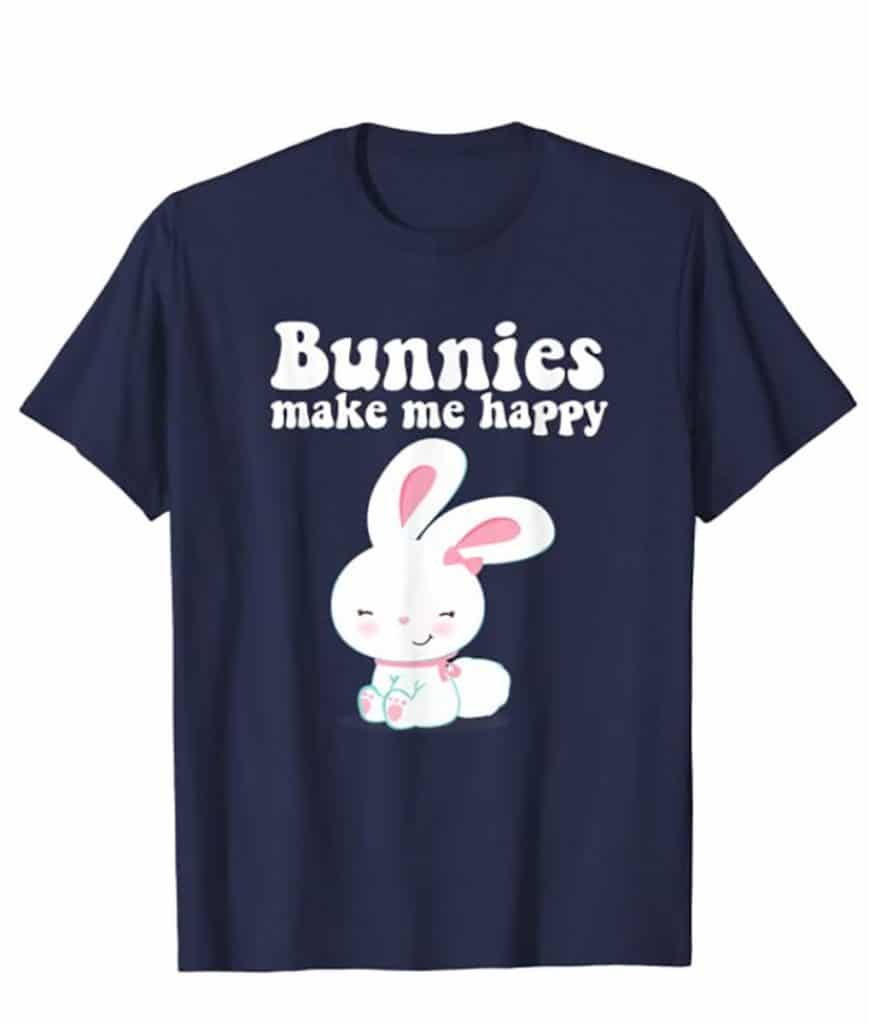 T-Shirts are a little cliche, but that's just because everyone loves a funny t-shirt. Well, almost everyone. If your loved one is a t-shirt wearer, then don't skip on the easy-winner gift.
---
8. Custom Rabbit Portrait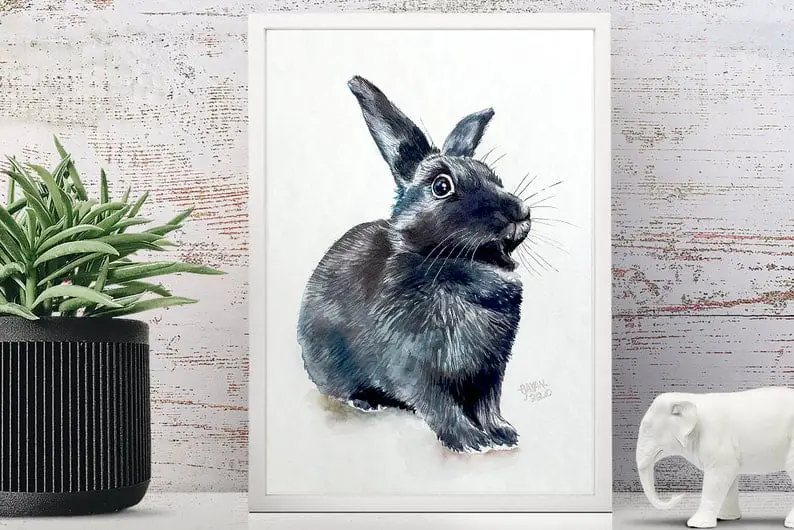 You send a picture of your friend's bunny and this talented artist on Etsy makes a one-of-a-kind and original watercolor portrait. How cool is that?
---
9. Custom Rabbit Litter Box & Feeder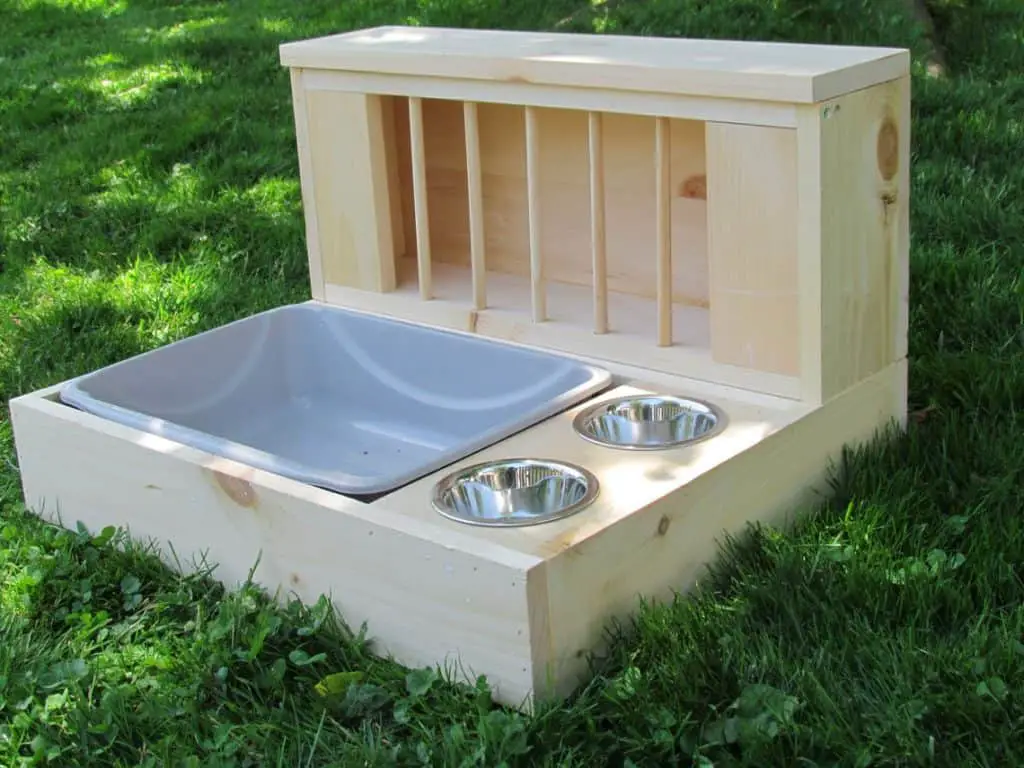 This is only a gift for a rabbit lover with whom you are very familiar. Do you live with this rabbit friend? Do they use a cheap plastic litter box? Do they have room for this amazing litter box that also includes food and water bowls and a hay manager? If you answered yes to all of those questions, this is an amazing gift that is going to keep your house cleaner too. Everyone wins.
---
10. Bunny Wall Art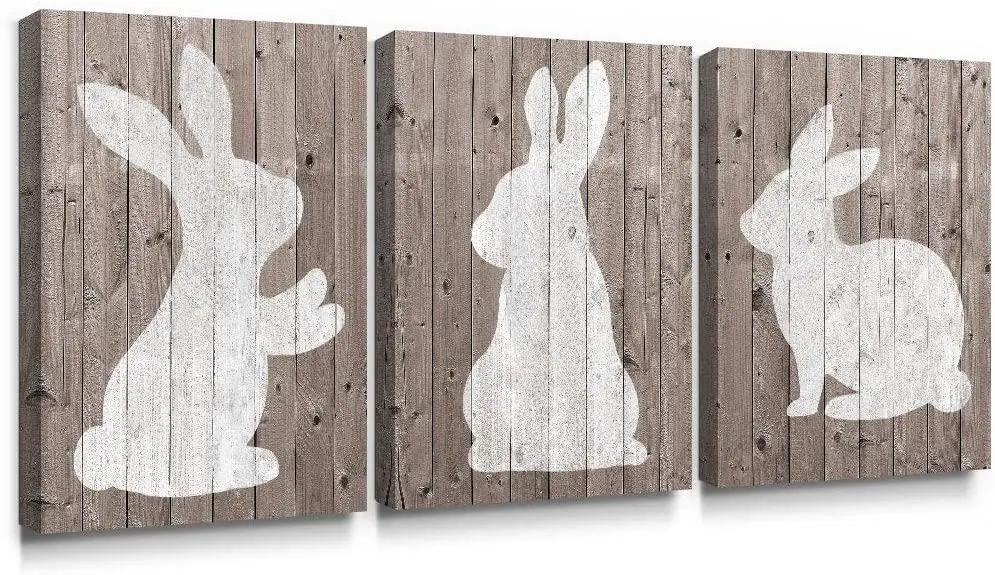 If your bunny lover has a rabbit room then they need rabbit wall art to take that room to the next level. The artwork in the image above is my favorite, but there are tons of options on Amazon to match any style. You can see my favorite on Amazon by clicking here, or the button below will take you to see lots of options.
---
11. Upgrade Their Rabbit Hutch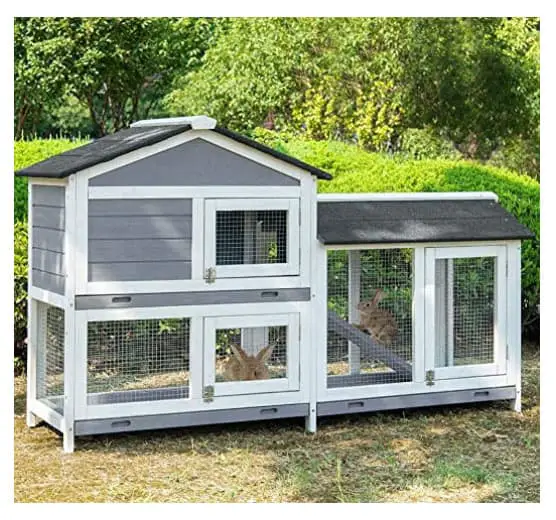 Setting up for a new rabbit can be expensive, and often we cut corners on your bunny's cage. For a couple of hundred bucks, you can help your friend upgrade their rabbit's home while also upgrading their home. That's a great gift.
---
12. The Ultimate Outdoor Rabbit Home or Playpen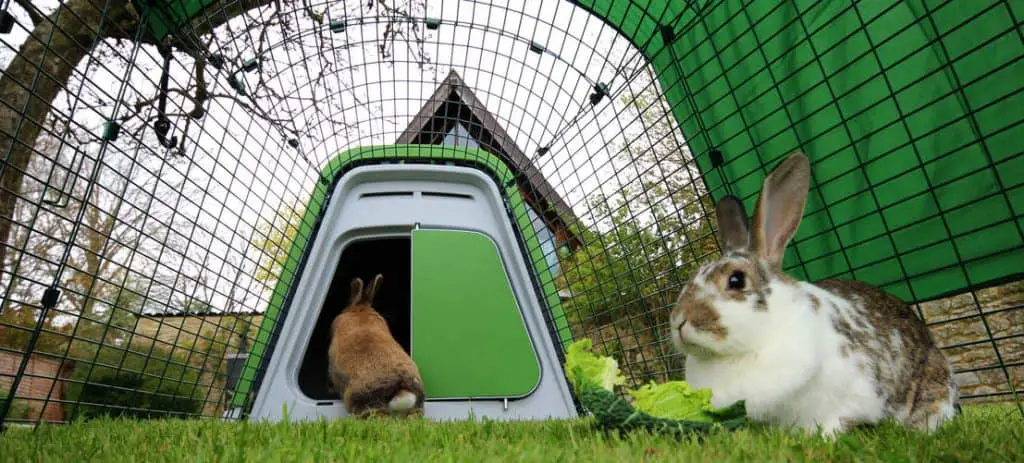 This is not a gift for everyone, because it's not going to fit into everyone's budget. However, it would be an epic gift for your rabbit loving friend. Even if you're not interested, at least go check out this setup.
With playpens big enough for us humans to hang out with our bunnies while then remain safe take having a rabbit to the next level. Combine those playpens with the 'zippy' tunnels with bunny-sized turrets and your rabbits are going to have the time of their lives.
Just as importantly, the time that your rabbit lover can spend with their bunny is going to be much higher quality.
Keeping a pet rabbit is wonderful, but living with your pet rabbit in this kind of amazing environment is extraordinary.
---
13. Rabbit And Rabbit Lover Portrait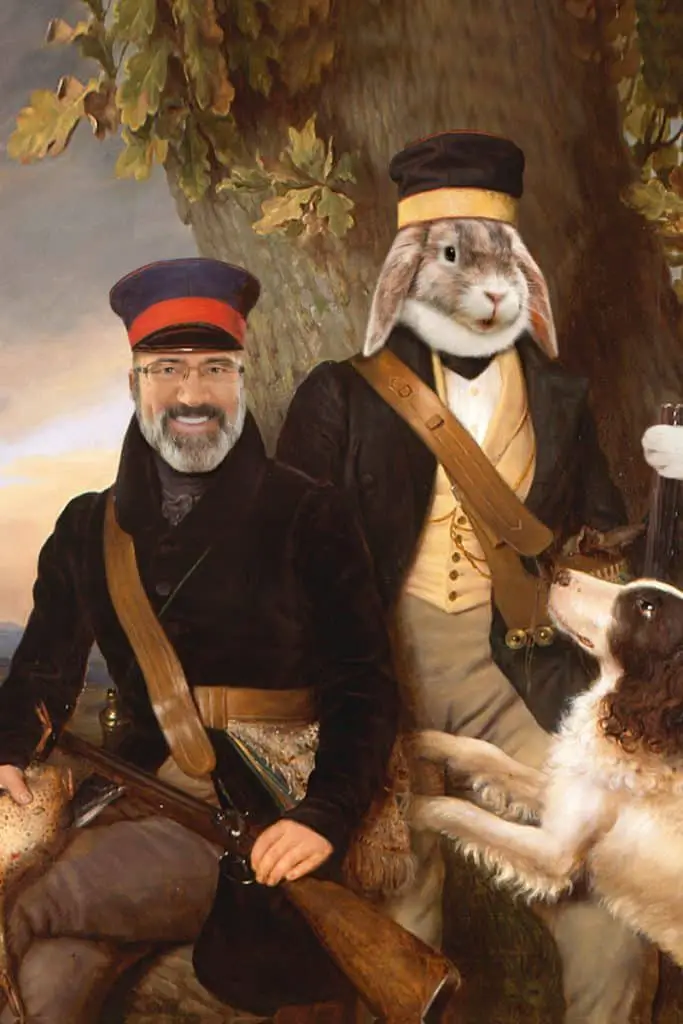 This is my favorite rabbit gift on this list. It's so unique and just fun. If you have a friend who's a real rabbit lover, they are going to squeal with joy when they see the face of their sweet bunny and their own face on one of the classic portraits.
Imagine your friend hanging this portrait on the wall and laughing with friends and family as they tell them that you were the one that gifted them with this unique rabbit present.
The link is to the "Women & Pets In Attire" category, but there are other categories to choose from on the website.
P.S. In the above image that's one of our Rabbit Pros, Stacey, with his family's pet holland lop, Snoops.
---
Still didn't find the perfect rabbit gift? We can offer you two more resources.
First, we have a curated list of the best rabbit stuff on Etsy that we are happy to share with you. We love supporting small businesses and craftspeople, and we're guessing that you do too. So, please, check out our Etsy Lists.
Finally, while we love supporting small businesses, Amazon is the easiest way to get stuff and they do offer goods from lots of small businesses. It's worth checking out the countless bunny gifts on Amazon.
Good luck in finding the perfect gift for your rabbit lover!