A rabbit playpen is a secure place for your bunny to roam and where you can interact with them without fear of them running away.
I think a playpen is essential for young bunny owners because a bunny playpen is a space where your kid can interact with their new pet rabbit in a space that is safe for both bunny and kid. Most importantly, it's a space where your child doesn't have to worry about picking up or holding their bunny, which is when both our kid and the pet bunny are most likely to get hurt.
We've owned several types of playpens over the years, and the rabbit playpen below is the best and last one we purchased. We got this about two years ago, and it's handled the use and weather just fine (my daughter isn't always really good about getting it put away).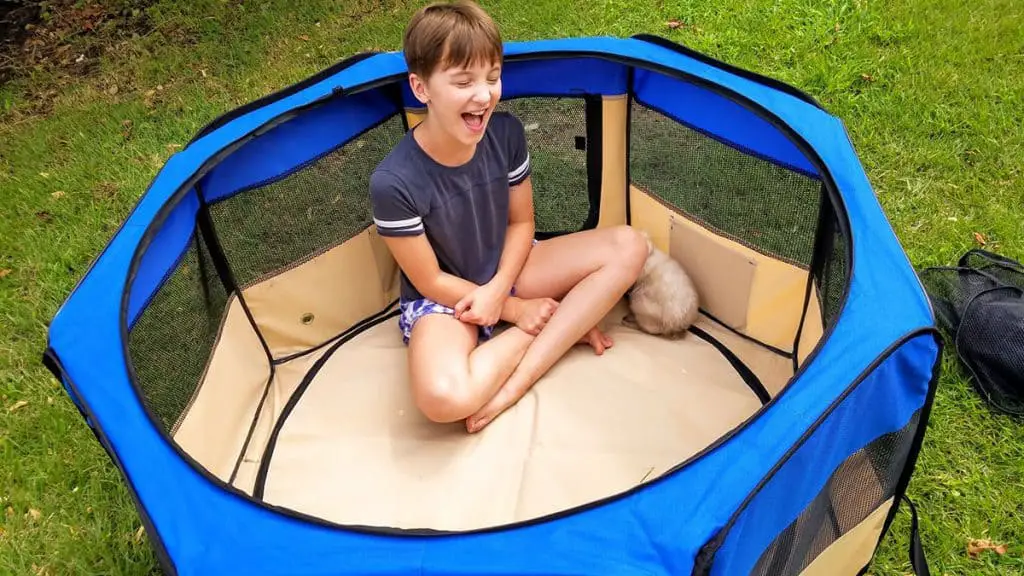 This rabbit playpen is water and pee-resistant, which means a pee puddle can easily be cleaned up before it gets to the carpet below.
It has a removable top and bottom, so you can give your bun access to the grass while you are then to watch him, or put the bottom on to protect your carpet or hardwood floors.
We put the top on if we're going to leave a bunny outside (in a securely fenced yard) in the playpen while we run inside for a bit.
2022's Best Bunny Playpen For A Kids First Rabbit
The Largest Rabbit Playpen
If you have more than one rabbit or more than one kid that's going to be playing with that rabbit(s) at one time, then you are probably going to want a larger rabbit playpen.
Here is a link to the largest rabbit playpen on Amazon at the time we wrote this article.
It has a bottom, which we think is essential if you ever take it outside, but it doesn't have a top and is just 27″ tall. That means that this rabbit playpen is only suitable for small rabbit breeds.
You can find larger playpens without a bottom, but we encourage you to only use these indoors and to be sure to protect your carpet or hardwood from excited bunnies. { Click here to see these indoor rabbit playpens on Amazon. >>> }