Disclosure: We may earn money or products from the companies mentioned in this post.
I seldom dedicate a whole article to a product, but this outdoor rabbit hutch deserves a deep dive into the features that make this the best outdoor rabbit cage.
I want to be clear, this rabbit hutch isn't inexpensive, but it's quality and features are going to add to your bunnies' happiness and the joy your family has with their pet bunnies.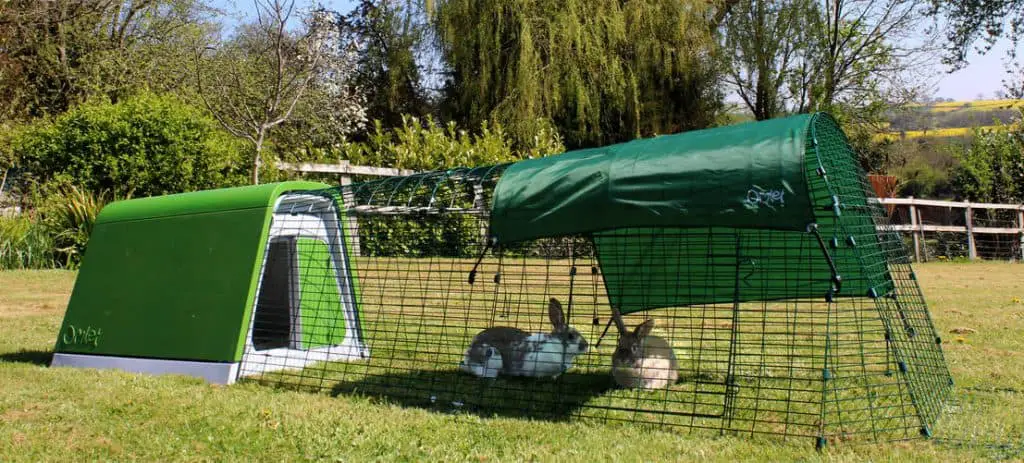 This article contains affiliate links.
Features Of The Best Outdoor Rabbit Hutch – Eglu Go Rabbit Hutch
Let's walk through the features that make this the best outdoor bunny cage.
1. Easy To Maintain
The Eglu Go Rabbit Hutch is made out of easy-to-clean plastic that doesn't need to be painted and that won't dry-rot like wood hutches.
It has a door between the hutch and the run that can easily be closed from the top of the hutch and the back of the hutch can easily be removed from the outside.
Finally, the entire bottom of the hutch is protected by a pull-out bedding tray so you can easily clean your bunny's home without being forced into awkward positions trying to clean the inside of your rabbit hutch.
Finally, because it's smooth plastic, if your hutch does need a deeper cleaning, you can easily wash it down and sanitize it with a pet safe sanitizer.
2. Healthy Rabbits
The Eglo Go Rabbit Outside Rabbit Hutch is easier to clean which means that your more likely to keep it clean. A clean home naturally provides for a healthier bunny.
In addition, this outdoor rabbit hutch is more of a rabbit tractor which means that your rabbit is going to have free access to sun and grass which also leads to a healthier and happier bunny.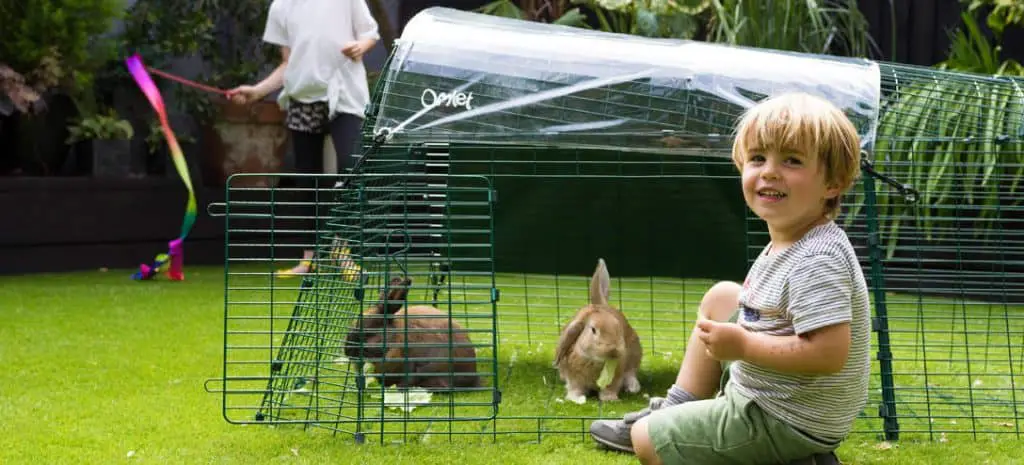 3. Happier Bunny Owners
Not only is taking care of your bunnies easier in this hutch, but it's also easier to interact with your bunnies.
Smaller kids can easily climb into the rabbit run to play with their bunny, and there are optional taller runs where adults can comfortably hang out with their bunny (we'll talk more about those accessories later).
4. Warmer & Cooler Rabbits
This outdoor bunny hutch is made of double-layered plastic providing a layer of insulating air that will keep your bunny warmer in the winter and cooler in the summer.
It also has well-designed ventilation openings near the top which will help natural airflow in the summer to keep your rabbit cool and help keep the air inside the hutch fresh and healthy.
It's also very water-resistant. Even the highest quality wooden hutch will let some water inside when it rains or when the snow melts. This is why many bunny owners cover their outside hutch with tarps in the winter when getting a rabbit wet could be deadly.
With the Eglu Go Rabbit Hutch you won't be worried about water getting into your bunny's home.
The outdoor rabbit run has a unique feature that makes it crazy hard for predators to dig under or lift up the edge of the run; It comes out flat on the ground on the outside of the run fence!
This means that when a dog or fox tries to dig at the edge of the cage, they are digging on wire fence and when they grab the fence and try to lift it (I've seen foxes do this), they are standing on the cage so they can't lift it.
It' simple yet brilliant.
Likewise the strong plastic hutch doesn't have weak spots or seams where a predator could tear into the rabbit hutch.
With this hutch, you'll be able to sleep well at night knowing that your bunny is sleeping well at night.
6. A Moveable Rabbit Hutch
With the accessory wheel set and handle set, you can easily move this outdoor rabbit tractor to new grass. Keep in mind that this is made out of plastic so it's way lighter than a normal wood rabbit cage.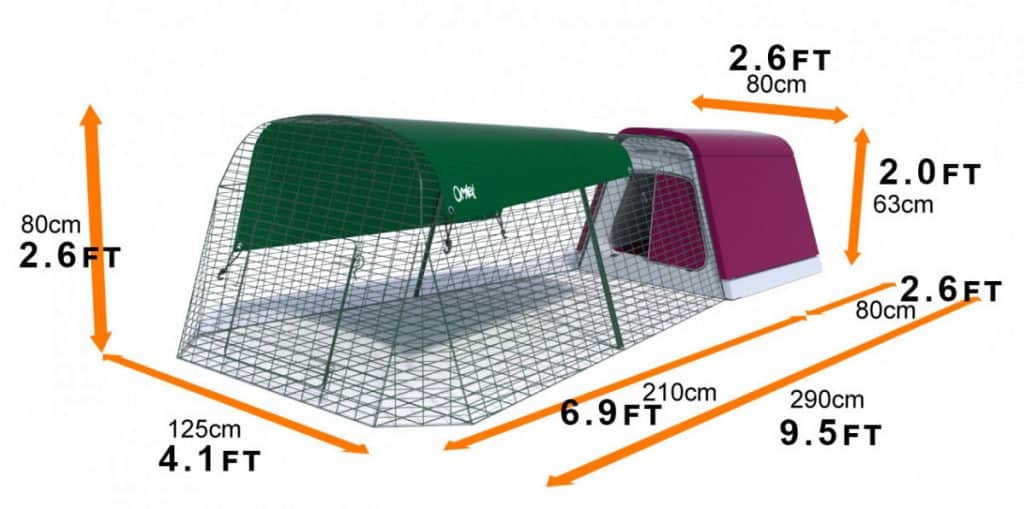 7. Large Rabbit Run
This outdoor hutch has a much larger bunny run than most rabbit hutches. Even the smallest run the offer is over 4 feet wide and is nearly 7 feet long.
This gives the bunny run of over 28 square feet! That's plenty of room for two medium-sized rabbits and even for one giant-sized breed like Flemish Giants.
But if you want more space you can order the Eglu rabbit hutch with either a 9 foot or 13-foot run, however, I wouldn't recommend making your hutch that long…it would just be a pain to move it. Instead, add additional runs! (See below)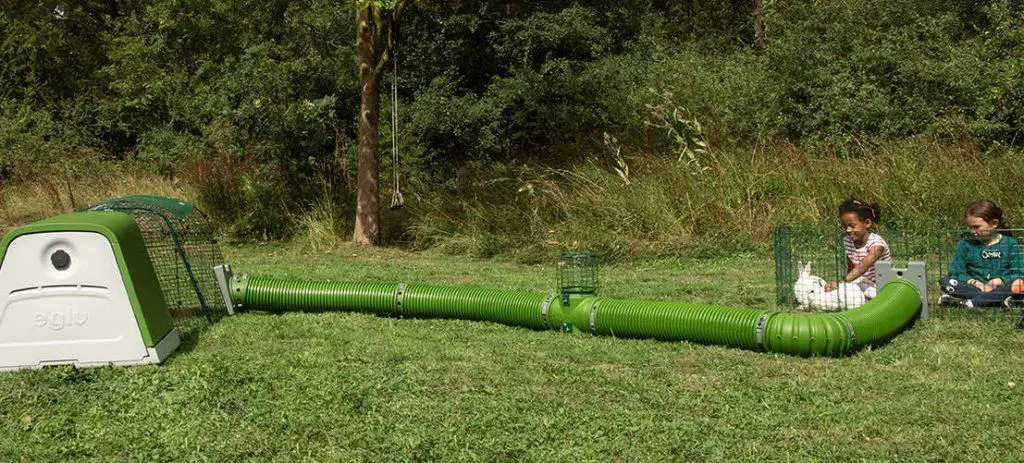 8. An Expandable Rabbit Run
Omlet offers amazing accessories for this outside bunny hutch, including additional runs and these super cool zippi tunnels to connect the runs.
With their zippi tunnels, you could attach any number of rabbit runs. This way each of the runs can be smaller and easily moved. Your sweet bunnies never need to run out of fresh grass!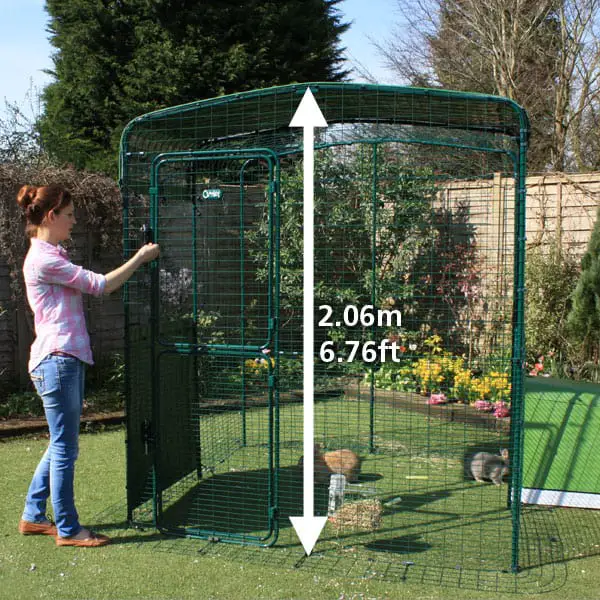 9. Walk In Rabbit Run
Omlet even offers walk-in rabbit runs that could be connected with the zippi tunnels. Then you could comfortably walk into the run to hang out with your pet rabbit.
Imagine having a comfy chair right there with your bunny in is safe and secure predator resistant bunny run.
That's the good life.
10. Great Warranty & Great Company To Do Business With
This rabbit hutch has two things that most rabbit hutches don't have, 1. A Money-Back Guarantee and 2. A Two-Year Warranty! A high-quality rabbit hutch allows them to offer high-quality guarantees.
Not only that, this outdoor rabbit hutch has over 17,000 five start reviews.
You can buy this hutch with confidence knowing that you are buying the highest quality rabbit hutch available.
---
Video Of This Outdoor Rabbit Hutch's Features
---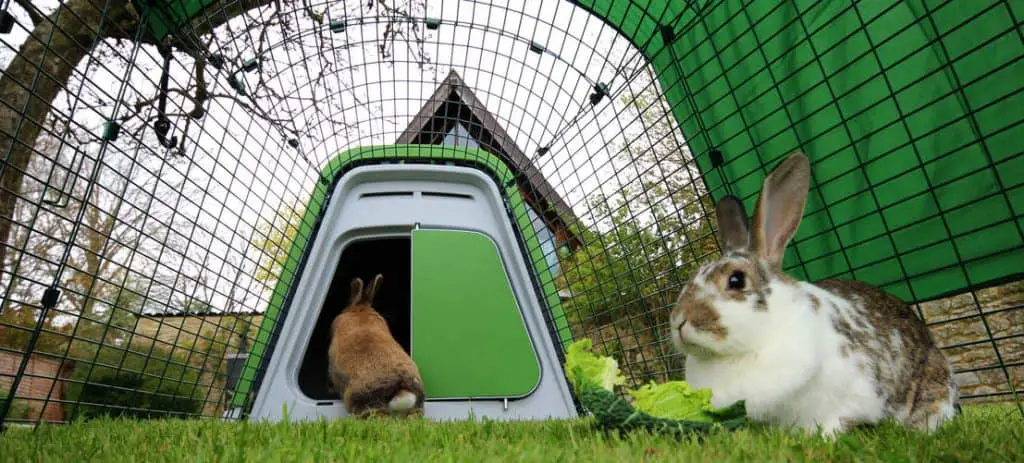 The Highest Quality Rabbit Hutch Available
People often ask me what is the best rabbit hutch and that's a hard question to answer because the best rabbit hutch for my situation may not be the best rabbit hutch for you.
However, I am confident saying that this is the highest quality rabbit hutch for sale. I've not seen any other hutch with quality materials, craftsmanship, and features to come close to those of the Eglu Go Rabbit Hutch.
If this hutch fits within your budget and you are going to have an outdoor bunny, this is the best rabbit hutch available based on quality.
The Best Rabbit Tractor For Sale
A rabbit tractor is a rabbit cage that sits directly on the ground which allows your rabbits to eat fresh grass and touch the earth. Rabbit tractors are very popular with homesteaders who are raising rabbits, but not for pets.
Rabbit tractors are popular because they raise healthier rabbits and save on feed costs. Each of these benefits are good for pet rabbits, so more and more people are looking for rabbit tractors for pet rabbits.
We keep our outdoor pet rabbits in rabbit tractors because they are healthier and happier bunnies, but it's not the only way to keep outdoor rabbits.
It's really hard to find rabbit tractors for sale. Instead you can find countless plans to build your own.
If you are looking to buy the best rabbit tractor that's actually for sale, the Eglu Go Rabbit Hutch is the best rabbit tractor I've found.
Keep in mind this rabbit tractor is designed for one or two rabbits, not a bunch being raised together.
The Best Outdoor Rabbit Hutch For You?
To know if this is the best rabbit hutch for you, you'll need to carefully consider your situation. Below are some of the questions you should ask yourself when deciding if this is the best rabbit hutch for you and your bunny.
Do you want outdoor bunnies?
Do you have good clean grass in your yard for your bunny to eat?
Are you physically able to move the cage when it needs moving? (get the wheels)
Are you physically able to get to the ground to clean out the bedding tray & feed your bunny?
Do you like the idea of your rabbit hutch being a central part of your yard decoration?
If you answer yes to these qhttps://rabbitpros.com/can-a-rabbit-live-on-grass-alone-feeding-your-pet-bunny-grass/uestions, then the Eglu Go Rabbit Hutch just might be the best outdoor bunny hutch for you.
~Stacey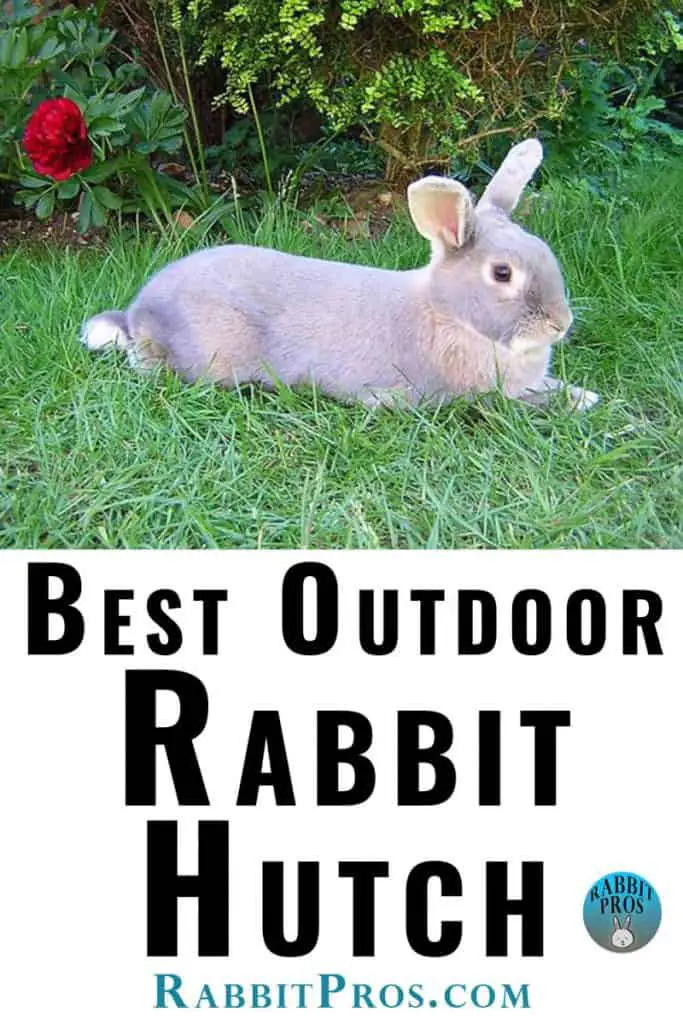 P.S. In the spirit of full disclosure, I do get a commission (at no additional cost to you) when you purchase one of these hutches using the links in this article. I never recommend a product I don't believe in, and I honestly think this is the highest quality outdoor rabbit hutch I've ever seen. Thank you for supporting our website by purchasing this product through our links.