Disclosure: We may earn money or products from the companies mentioned in this post.
Last year, my daughter got her first Holland Lop Pet Bunny. Part of the deal was that she had to help pay for her rabbit. Now with some skin in the game, she wanted to know how much a Holland Lop was going to cost, so we did all the research and decided to share it with you.
The average cost for a pet Holland Lop rabbit is $40, though they can range in price from $20 to $400 or more. A Holland Lops price can vary based upon pedigree, linage, and completed medical procedures such as fertility alternation.
Now let's figure out why the price range is so huge!
The Least Expensive Holland Lop Rabbits
The most affordable way to find a new Holland Lop for a pet is to find one locally and from an individual.
These bunny loving people usually are just asking for enough to help cover the cost of keeping their own pets; usually $20 to $40 bucks.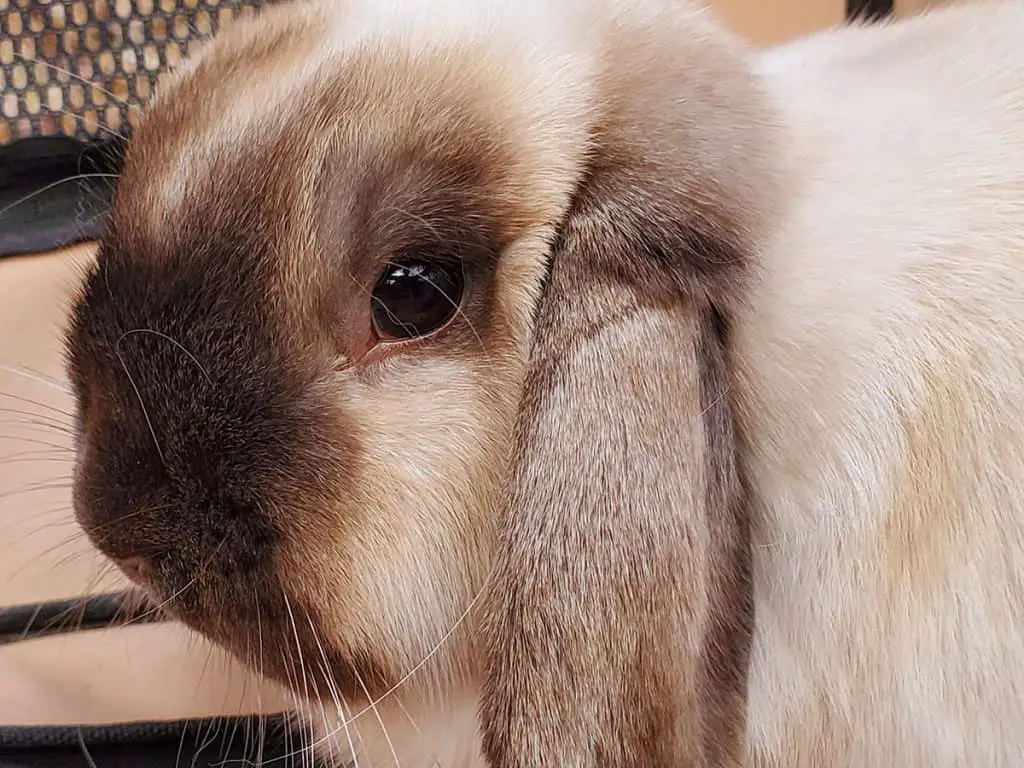 So How Do You Find These Local Bunny Amateur Breeders?
When my family is looking for an affordable pet rabbit, we search in the following places. P.S. I've ordered these in the order I'd try.
Local 4-H Club. Nearly all 4-H Clubs have a Rabbit Club, so all you have to do is find your local club and ask how to get in touch with the Rabbit Leader. You can find your local 4-H Club online using the official 4-H.Org website.
Local Craigslist Postings. Search your local Craigslist postings, but be careful meeting strangers to purchase anything. Meeting at the local police station is always a good idea.
Search Facebook for a Local Rabbit or Animal Swap Group. While Facebook doesn't allow the selling of animals on its platform, in most areas you can find closed groups where animal lovers get together. If you find such a group, be sure to read and follow their rules; you don't want to get anyone in trouble for breaking Facebook's rules.
P.S. Here's a link to an article with more ideas on where to get a pet rabbit.
What to Ask When Considering A Holland Lop From A Local Breeder?
You basically just want to make sure that your potential pet is coming from a healthy and happy home which is a pretty good indication of the bunny's health and socialization.
Here are the questions we might ask before purchasing a bunny locally:
Can I visit the bunnies before we buy one?
If not, can I see pictures of the parents and where they live?
How long have you kept rabbits?
Have you shown any of your rabbits in rabbit shows? How have they done?
Are your rabbits housed indoors or outdoors?
Do you rabbits have interaction with any other animals (usually cats or dogs)?
How many litters has the mother rabbit had? (More than five is kind of scary because the health of the mother and babies begin to deteriorate with so many litters.)
How much have be babies been handled? Are they socialized with humans?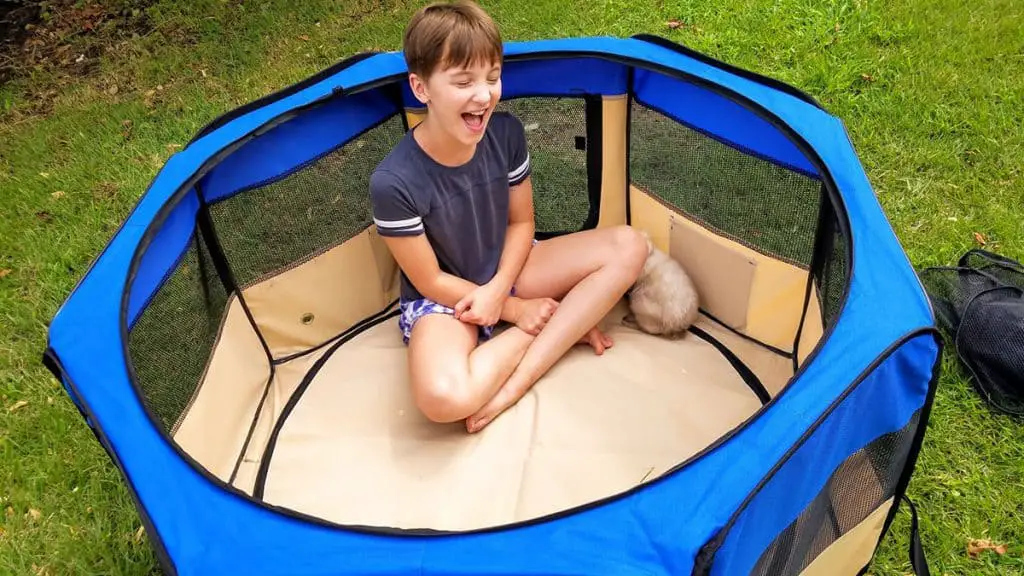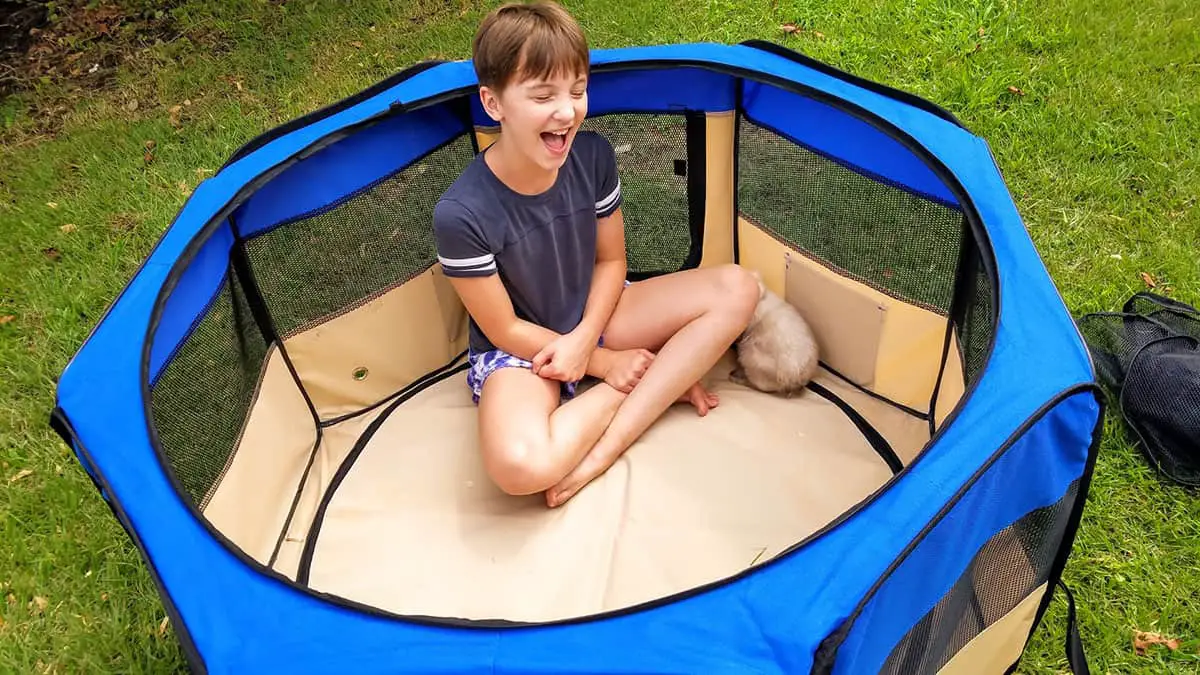 What Makes Pet Holland Lop Rabbit More Expensive?
Some Holland Lops are more expensive, and there are a number of reasons that someone might be asking more for one of these cute pet rabbits.
Seller Overhead.
The most notorious example of a high overhead rabbit seller is a Pet Store.
A Holland Lop from a chain pet store will cost anywhere from $50 to $150 for the same quality bunny you'd get from a local breeder.
We never buy rabbits from pet stores.
Quality of Rabbit.
Most rabbits in the world are "pet quality" rabbits. These are fine bunnies but may not have the ideal characteristics (e.g. color, eye color, ear shape, etc..) to qualify them to be registered with the American Rabbit Breeders Association.
However, if a rabbit is either "Show Quality" or "Breeder Quality" their costs can be a lot higher.
If a rabbit has a pedigree of parents and grandparents who have been registered and been very successful at the highest level of rabbit competitions, their cost will be significantly higher.
Such rabbits will easily cost $100 or more.
If you are not planning on showing your rabbit competitively, or breeding show rabbits, this probably is not an added expense you should consider.
Rarity of Rabbit
While every breed of rabbit, including Holland Lops, has multiple variations of acceptable colors or color patterns, most breeds have some colors/patterns that are rarer.
The Holland Lop Specialty Club lists at least 27 varities of Holland Lops, though other sources list more then 80!

Holland Lop Specialty Club
These more rare rabbits will be more expensive, but be careful.
With so many approved varieties of Holland Lops and countless 'faulty' colors of these wonderful bunnies, some people will ask a premium for just about any rabbit for their 'rare' traits.
My advice is to never pay a premium for a rare trait unless you've been actively searching for that rare bunny. If someone offers you the standard rabbit at a good price, and the rare rabbit for twice as much…go standard.
All Holland Lop bunnies are cute, and paying more for one doesn't make it cuter!
Completed Medical Procedures
The most common medical expense with a rabbit is to get them spayed or neutered. There are many reasons to get a bunny fixed and the majority of rabbit owners have done so.
The average cost of getting a rabbit fixed is over $200 though you can find less expensive veterinarians to fix your bunny if you do some research.
Other Ways To Find Holland Lop Rabbits Near You
If you want to think outside of the box when finding your perfect pet Holland Lop bunny here are a few last ideas.
Look for Rescue Rabbits
Rescue rabbits are bunnies that had to be given up by their previous owners for some reason.
This could be because of the health of the owner, a change in living situations, financial reasons, or even behavioral issues with the rabbit or other pets (or even children) in the home. This is a lot more common than we'd like to think.
To deal with the bunnies, rabbit rescue organizations have been created all around the world.
To find one here in America, you should start by searching google for "Rabbit Rescue _________", where the blank is your state. From there you might even be able to find a more local group.
When considering a rescue rabbit, be extra vigilant. You'll want to be clear on the age and health of the rabbit so you know what responsibilities you're taking on when adapting that bunny.
And while it's awkward to ask about behavioral issues with an animal, you must for the sake of the bunny and yourself.
Most rabbits are sweeties, but a few have issues. Some minor, like they freak out when a cat is in the house, and some more serious like a bunny that has a tendency to bite hard.
Non-Rabbit Rescue Rescues
Most city's won't have a Rabbit Rescue, but they will have an animal shelter.
Sometimes people take animals other than cats and dogs to those shelters, including rabbits.
If you are open to rescuing a rabbit, then you might want to reach out to your local shelter and ask them to contact you if a rabbit is brought to them.
In Conclusion
As you can see, the cost of a Holland Lop rabbit can vary widely.
For your first bunny, I encourage you to go with the most affordable, healthy, and happy bunny that you can find nearby.
If possible, choose a younger bunny so you can bond with your bunny as they grow into adulthood.
Oh…and choose a really really cute bunny!
---